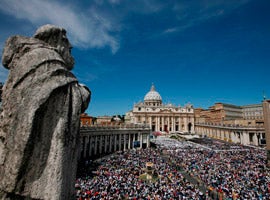 "Ecclesial movements…represent one of the most significant fruits of that springtime in the Church which was foretold by the Second Vatican Council…Their presence is encouraging because it shows that this springtime is advancing and revealing the freshness of the Christian experience based on personal encounter with Christ." – St. John Paul II, Message to participants in the 1st World Congress of Ecclesial Movements and New Communities (1998).
The Pontifical Council for the Laity (PCL), part of the Roman Curia, has a section devoted to ecclesial movements and new communities: Associations and Movements Section.
The PCL also maintains a listing of ecclesial movements and new communities, called the Directory of Associations of the Faithful. In the Preface to the Directory, the President of the PCL (Cardinal Stanislaw Rylko) explains: "The Directory is a response to the invitation extended by John Paul II to the Pontifical Council for the Laity in Christifideles Laici to draw up a list of associations which have received the 'official recognition and explicit approval' of the Holy See (no. 20). … This Directory lists associations that have an international spread and in which 'the Christian faithful, whether clerics, lay persons, or clerics and lay persons together, strive in a common endeavor to foster a more perfect life, to promote public worship or Christian doctrine, or to exercise other works of the apostolate such as initiatives of evangelization, works of piety or charity, and those which animate the temporal order with a Christian spirit.'"
Church Teaching on Ecclesial Movements [page in development]
World Congress of Ecclesial Movements and New Communities
Organized by the Pontifical Council for the Laity
Theme: "Ecclesial movements: communion and mission at the threshold of the third millennium"
Cardinal Joseph Ratzinger (later Pope Benedict XVI) gave a lecture on the theology of ecclesial movements (available as "Ecclesial Movements and Their Place in Theology" in New Outpourings of the Spirit, Ignatius Press, 2007, pp. 17-61)
May 30, 1998 (Vigil of Pentecost): Address of John Paul II to participants in the Congress (St. Peter's Square)