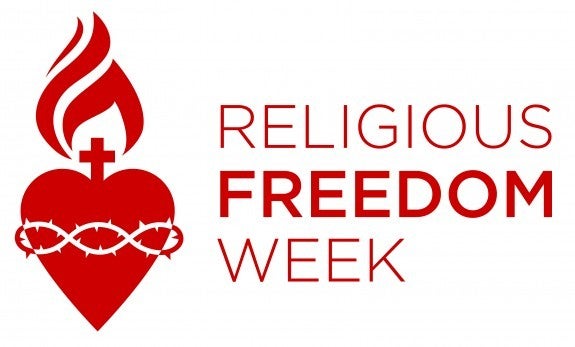 Religious Freedom Week 2022
Life and Dignity for All
Religious Freedom Week 2022
Walking with Moms in Need - June 22
Pray that local churches and communities will have the vision and the freedom to walk with moms in need. 
Reflect 
To build a culture of life and dignity for all, the Church must support women and children.  In 2020, the USCCB Committee on Pro-Life Activities launched Walking with Moms in Need, which seeks to help parishes become places where pregnant and parenting women can find support and accompaniment.  Catholic Charities of Central Florida answered this call by organizing a "diaper drop."  With some help from the Knights of Columbus, they were able to provide diapers and other hygiene products to mothers in need.  With so many people out of work during the COVID pandemic, the program has been a true blessing to many.  This is the kind of missionary work that the Church seeks to protect through its defense of religious freedom, and that all of us must commit to if we are to promote a culture of life. 
Act 
As part of the nationwide effort Walking with Moms in Need, parishes that have the support of their bishop and pastor are asked to complete a simple inventory of the resources currently available in their local area, assess the results and identify gaps, and plan and implement a parish response based on their findings.  Learn about how your parish can accompany women and children at www.walkingwithmoms.com.   
Church Vandalism - June 23
Pray that Christian witness in the face of attacks on our churches will convert hearts to faith in Jesus Christ. 
Reflect 
Beginning in May of 2020, an apparent wave of vandalism and arson hit Catholic churches and statues.  Vandals entered churches and desecrated sanctuaries.  Just days before the Solemnity of Immaculate Conception, the feast of our nation's patron saint, a man damaged a statue of Our Lady of Fatima at the Rosary Garden of the National Shrine of the Immaculate Conception. There have been at least 120 attacks so far, and that number steadily continues to grow.  Several attacks have involved the destruction of pro-life displays and graffiti with pro-abortion messages.  Attacking sacred places—whether through damage to physical property or by projecting pro-abortion messages on a church while people pray for an end to abortion, as activists did in Washington, DC and New York in January—harms all people of faith, for the very nature of sacred spaces is that they are set apart and treated with respect.  Attacks on houses of worship undermine life and dignity for all.  The civic peace of a pluralistic society requires that people are free to worship without fear.   
Act 
Catholic communities have expressed their faith through their sacred art and architecture.  Cathedrals, parish buildings, and devotional art all testify to the strength and hope of these diverse communities.  How has this legacy affected you?  Share an image of your favorite church building or devotional art with us on Twitter! @USCCBFreedom #ReligiousFreedomWeek 
Adoption and Foster Care - June 24
Pray that people of faith will continue to have the freedom to serve in the life-affirming ministry of adoption and foster care. 
Reflect 
The command to care for the orphan appears throughout the Scriptures.  Over the centuries, the Church has responded to this call by building adoption and foster care institutions.  These institutions will become even more vital, as we take new steps in building a culture of life and dignity for all in the United States.  Sadly, in many places, those who seek to advance sexual orientation/gender identity causes have gone out of their way to challenge Christian adoption and foster care services who continue to uphold the truth about marriage.  Intolerance for religious organizations has real consequences, and in this case, it is both vulnerable children and prospective parents who want to work with faith-affirming agencies who suffer.  It is critical that our civic leaders give the Church the space to continue to serve life and dignity for all through adoption and foster care. 
Act 
The Child Welfare Provider Inclusion Act prevents faith-based child welfare service providers from being targeted by government discrimination.  The Act would prohibit the federal government and any state that receives certain federal funding from excluding child welfare providers who believe that children deserve to be placed with a married mother and father.  Contact your U.S. Senators and Representative today and ask them to co-sponsor and support the federal Child Welfare Provider Inclusion Act! 
Taxpayer Funding for Abortion - June 25
Pray that civic leaders would promote life and dignity for all. 
Reflect 
The Hyde Amendment, contained in the federal government's annual appropriations legislation, prohibits federal funding of abortions in the United States, except in cases of rape, incest or to save the life of the mother.  It is a bipartisan provision that has been part of federal appropriations for 45 years (since 1976) and enjoys overwhelming public support.  The Hyde Amendment has served as the model for dozens of other federal policies that prohibit the government from funding abortion in other areas (for example, in foreign assistance programs, trafficking programs, community health programs, or health insurance).  In addition to being widely supported by Americans, Hyde and Hyde-related policies save lives and respect the consciences of Americans.  
Act 
No taxpayer abortion!  Tell Congress not to take innocent lives.  Sign the petition today! 
Religious Freedom in China - June 26
Pray for the freedom of the Church in China, and that the rights of all religious minorities would be respected.
Reflect
While the Chinese constitution grants its citizens "freedom of religious belief," in reality that freedom is conditioned by what the government deems to be permissible. In remarks in December 2021, President Xi re-emphasized the need for "sinicization" of religion, "upholding the principle of developing religions in the Chinese context and providing active guidance for the adaptation of religions to socialist society." The case of Uyghur Muslims in China has been much publicized and with good reason. It is estimated that over 1 million Uyghurs in the Xinjiang region of China have been detained in what the Chinese call "re-education" camps but are basically prison camps. Human rights groups have found credible evidence of Uyghurs being tortured, placed in solitary confinement, and subjected to forced labor. For those not in the camps, the CCP uses extensive electronic surveillance (facial recognition, voice pattern sampling) and armed checkpoints to limit the movement of Uyghurs.
But the growing restrictions apply to all religions. Christian institutions and clergy/religious have been come under increased pressure to register with state-sanctioned religious bodies. For Catholics, this would be the Chinese Catholic Patriotic Association (CCPA). There are an estimated 12 million Catholics in China, with half being part of CCPA registered congregations led by bishops selected with the approval of the Chinese Communist Party, the rest being members of the "underground" church who adhere to the authority of Rome. In September 2018, the Vatican and China signed a provisional agreement concerning the appointment of bishops with the CCPA recommending candidates for bishops and the Pope having the final say. While the text of this agreement has not been made public, it was intended to pave the way for the unification of the underground and CCPA sanctioned Catholic communities. It remains to be seen whether the Vatican's hope of building trust and friendship through dialogue will bear fruit in improvements in religious freedom, not only for Catholics, but for all who want to exercise their "right to live in the truth of one's faith and in conformity with one's transcendent dignity as a person." 
Act
Solidarity with people of faith in other countries begins with learning about their struggles.  Stay informed by signing up for the USCCB's religious liberty newsletter, First Freedom News.
Pregnancy Resource Centers - June 27
Pray that women facing unplanned pregnancies will continue to have access to support from people who help them choose life. 
Reflect 
Many women facing unexpected pregnancies may feel like they have no options and that abortion is the only way forward.  How will I take care of this child?  To whom will I turn for support?  What will my family say?  Understandably, they feel trapped.  Pregnancy resource centers provide counseling and support for moms who want to choose life.  In some places, though, abortion activists have sought to curtail the activities of these centers, working to force them to advertise abortion.  In 2018, pregnancy resource centers in California successfully defended their work at the U.S. Supreme Court.  But in places like Connecticut, for example, abortion activists show no signs of stopping their campaign against pregnancy resource centers.  These centers support life and dignity for all.  They are vital in our construction of a culture of life and removing a false choice between promoting the life of the mother and that of the child. 
Act 
We can support local pregnancy centers where they exist, through our time and our charity. And whether or not our communities have pregnancy centers, we can also find and share other resources with pregnant and parenting women. Walking with Moms in Need is a time of service in which Catholic parishes and communities "walk in the shoes" of local pregnant and parenting women in need. Everyone should know how to help moms in difficult circumstances.  And where there are few local resources, we can create our own, based on the gifts of the parish community!  Learn more at www.walkingwithmoms.com.
Health Care Workers - June 28
Pray that governments will respect the consciences of all people who care for the sick and vulnerable. 
Reflect 
For centuries, Christians have carried on the healing ministry of Christ by building institutions dedicated to medicine and accompaniment of the dying.  However, activists have sought to undermine the Church's mission by forcing Catholic hospitals to perform procedures that destroy human life and undermine human dignity, such as sterilization, gender reassignment surgery, and even abortion.  While activists attack Catholic hospitals, people of faith who work in secular institutions may find themselves coerced into performing abortions.  For example, nurses have been forced to participate in an abortion or risk losing their jobs.  Christians are called to serve life and dignity for all, not destroy innocent life and harm the persons entrusted to our care. 
Act 
While existing federal laws already protect some conscientious objections to abortion, sterilization, and gender reassignment surgery in theory, this protection has not proved effective in practice.  These laws can only be enforced by the Office for Civil Rights at the U.S. Department of Health and Human Services, which has in the past refused to fully enforce these laws.  The Conscience Protection Act would address deficiencies that block effective enforcement of existing laws, most notably by establishing a private right of action allowing victims of discrimination to defend their own rights in court.  Contact your elected officials in Congress and urge them to support the Conscience Protection Act!  
Free Speech - June 29
Pray that Christians will have the courage to proclaim the gospel of life and dignity for all with kindness and clarity, even in the face of adversity. 
Reflect 
One of the promises of America is that many voices have a right to express themselves.  Is that promise being fulfilled?  On college campuses across the country, students who bear witness to life face intimidation and harassment.  While a university can be a place to debate controversial topics, those who speak on behalf of the unborn are not merely dealing with opposing views.  They are having their perspectives cancelled altogether.  On the feast day of two of our boldest preachers of the gospel, Sts. Peter and Paul, who faced intense hostility, let us resolve to have the courage to speak the truth with grace, asking that the Lord will give us the prudence to be creative and compassionate in our witness. 
Act
Connect with the USCCB Committee for Religious Liberty.  Text FREEDOM to 84576 and Sign up for First Freedom News, the Committee's monthly newsletter.  
Religious Liberty Newsletter
Sign Up for Our Email Newsletter