Packing for World Youth Day

There is no need for any formal clothing at World Youth Day, so focus on functional, casual apparel. Some religious shrines and churches enforce a modest dress code requiring that shoulders and knees be covered, so be prepared for that in your packing. In general, wear modest clothing that is respectful, as this is a Christian activity. 
A good backpack is essential. Some features to look for in a good backpack for this trip include: sturdiness; pockets for water bottles; lots of attachment points for tying things; be able to carry supplies (food, blankets, devotional books, radio, etc.) for the week; and a sternum strap so the shoulder straps don't slip off. A belt strap can be a huge help in transferring the weight of your full backpack from your shoulders to your hips. You may also consider purchasing, in advance, one of the official WYDUSA backpacks available at  www.wydusa.org
You will also walk a great deal during World Youth Day, so bring sturdy, well broken-in shoes along with foot care/blister kit available at your local drug store. Expect to walk over five to ten miles each day as part of the WYD experience. If your group has any mobility-impaired pilgrims, but sure to take appropriate precautions and note their situation when registering with World Youth Day. The weather in Panama in January is hot and humid with temperatures averaging around 89 degrees Fahrenheit.  January also marks the beginning of the dry season. Check the forecast so that you can wear clothing that is helpful for traveling around such a climate for a week or a few days.
During the activities throughout the week, plan on taking whatever you will need for the entire day in your backpack when you leave in the morning. Some things you might want in your backpack include: rosary, jacket, rain jacket or umbrella, flashlight, snacks, hand sanitizer, travel toilet paper, the WYD pilgrim guide book, a small radio (and headphones) for simultaneous language translation at major events, hat, sunglasses, sunscreen, camera, foot care kit, water bottle, cell phone, and a cell phone pocket charger.
Packing for the Vigil Walk and Closing Mass
For this two-day experience of "roughing it," only bring what you need for Saturday and Sunday. In addition to the gear you normally carry during WYD week, you will need to carry: a sleeping bag or blanket (or a lightweight sleeping bag liner), a ground cloth (a shower curtain from a dollar store works great), a sleeping pad (a cheap pool mattress can do the job), flashlight, change of clothes, toothbrush and toothpaste, and prescription drugs. This is where having some attachment points on your backpack can be valuable. Climbing carabineers are especially handy for attaching things to your backpack.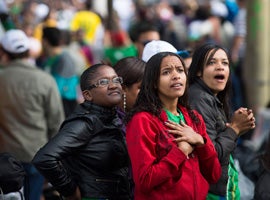 Currency
The US dollar is officially recognized and used as Panama's paper currency.  Though Panama produces its own coinage (the balboa), US coins are accepted. For this reason, pilgrims coming from the US do not need to exchange currency. It is recommended to use nothing higher than $10 and $20 US bills as $100 and $50 US bills are harder to break and less accepted by many businesses.
The Panamanian balboa is divided into centésimos, which are equal in size and value to US coins. The coins come in values of one, five, 10, 25, and 50. 100 centésimos equal one Balboa. One balboa equals one US dollar.

Credit cards are handy in Panama, but not all are accepted and many street vendors or small shops only take cash. Also, most banks charge a foreign transaction fee for each transaction so be sure to check with your bank before making the trip. Also be sure you inform your bank of your intended credit card use overseas before you depart so that they do not think your card has been stolen. Do not bother with travelers' checks as the widespread acceptance of credit cards and debit cards as well as the availability ATMs have made them somewhat obsolete.
Meal Vouchers/Tickets 
The exact details of the meal system will be announced soon. Details will be forthcoming.
Cell Phones
Many Americans travel abroad and come home to massive cell phone bills because they did not manage their data usage during the trip. If bringing your cell phone overseas, be sure that you contact your mobile phone service provider to understand the financial implications of using your phones and data plan overseas. Some folks bring an unlocked phone overseas and purchase a local SIM card once they arrive. Note that whether using a cell phone or an international calling card, all pilgrims should call, text, or email an emergency contact at home within 24 hours of arriving in Panama. You may also want to consider using digital services like Skype or WhatsApp(if you have wi-fi capabilities), as this cuts down on the costs of communication overseas. However, even with this in mind, be aware that this trip is a pilgrimage, not a vacation, and as such, mobile devices should be used only for the purposes of this trip (for instance, using the WYD app, reading Scripture or devotional prayers online, etc.) or for emergency contacts and/or checking in.
Identification
United States citizens will need a valid passport to travel to Panama that must be valid for three months after your return date. The U.S. State Department recommends that your passport have at least three months of validity left for international travel (your passport should be valid through April 30, 2019). International travelers are encouraged to register their trip with the State Department's optional Safe Traveler Enrollment Program. No visa is required for U.S. citizens traveling into Panama.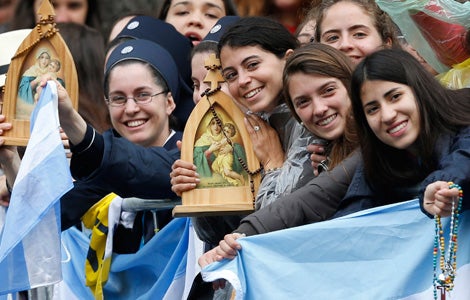 Experience the richness of your faith