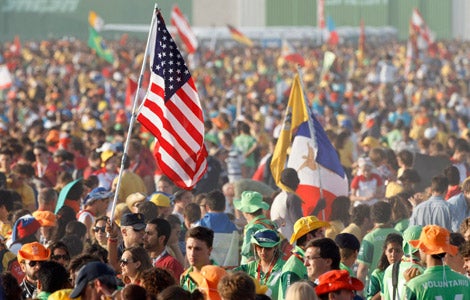 All World Youth Day participants from the United States are invited to the special U.S. Pilgrim Night on Wednesday, July 24, 2013, at the Vivo Rio Center on the  shores of Guanabara Bay in the eastern area of Rio de Janeiro.  Details of the activities that evening are listed below.
The Vivo Rio Center is also the Welcome Center for English Speaking WYD Pilgrims, located at Av. Inf-d. Henrique, 85 - Glória  Rio de Janeiro, 20021-140, Brazil. Prayer, music, and catechetical events are being held at this site throughout the days of World Youth Day for pilgrims from English-speaking countries including the United States, Canada, England, Wales, Ireland, Scotland, and Australia, among others. 

WEDNESDAY, JULY 24, 2013

SCHEDULE OF EVENTS
5:00 to 5:30 p.m.
Praise Music (main stage)

5:30 to 5:45 p.m.
Exposition of the Blessed Sacrament (main stage)
5:45 to 5:55 p.m.
Procession of the Blessed Sacrament (to chapel)
5:55 to 7:20 p.m.
Quiet Adoration begins (chapel)
6:00 to 7:20 p.m.
Vocation Fest: Music and Witness (main stage)
6:00 to 7:30 p.m.
Vocation Conversations with Bishops (various locations)
7:20 to 7:30 p.m.
Procession of the Blessed Sacrament (to main stage)
7:30 to 8:30 p.m.
U.S. Holy Hour Experience (main stage)
concluding with Benediction and Reposition of the Blessed Sacrament
8:30 to 9:30 p.m.
Pilgrim Networking Time (around the Vivo Rio Center)
* time for pilgrims to meet bishops and other groups
More details about this event will be released soon.  Check back for more details.

Experience the richness of your faith