World Youth Day 2019: Panama

World Youth Day 2019 was held in Panama City, Panama January 22-27, 2019. The Blessed Virgin Mary was at the heart of the themes for this cycle of WYDs:
32nd World Youth Day, 2017: "The Mighty One has done great things for me, and holy is His Name"(Luke 1:49)
33rd World Youth Day, 2018: "Do not be afraid, Mary, for you have found favor with God" (Luke 1:30)
34th World Youth Day, 2019: "I am the servant of the Lord. May it be done to me according to your word" (Luke 1:38)
Check out the promotional video from World Youth Day Panama 2019.
Official WYD 2019 Song, "Here I am, Servant of the Lord"
The official 2019 World Youth Day song was originally composed by Abdiel Jiménez and focuses on the 2019 WYD theme (Lk 1:38).
Sheet music and audio files are available for free download for pilgrims. The lyrics have been translated into multiple languages including English and Spanish.
---
Official World Youth Day Panama Prayer
Merciful Father,
You call us to live our lives as a way of salvation
Help us to recall the past with gratitude,
to embrace the present with courage
and to build the future with hope. 
Lord Jesus, our friend and brother,
thank you for looking upon us with love.
Let us listen to your voice
as it resonates in the hearts of each one with
the strength and light of the Holy Spirit
Grant us the grace of being a Church
that goes forth with vibrant faith and a youthful face
to communicate the joy of the Gospel.
May we help to build up the kind of society we long for,
one where there is fairness and fellowship.
We pray for the Pope and the bishops;
for young people; for all those who will take part
in World Youth Day in Panama
and for those who are preparing to welcome them. 
Our Lady of Antigua, Patroness of Panama,
help us to pray and live with generosity like yours:
"I am the servant of the Lord.
May it be done to me
according to your word" (Lk 1:38). Amen.
World Youth Day USA Prayer in preparation for World Youth Day 2019
God our Father,
be with us on our pilgrim journey of faith.
Give us the grace and the courage to step forward in faith and hope on the road ahead.
Lord Jesus,
open our eyes to see your face in all those we encounter.
Open our ears to hear your voice in those who are often ignored.
Open our hearts that we might be faithful disciples of mercy and truth.
Holy Spirit,
transform us. Empower us to give ourselves to the poor, to welcome the lost,
to forgive those who hurt us, to comfort those who suffer and are marginalized.
Bless those who travel on mission from the United States of America
to Panamá, where east and west and north and south come together,
to join the universal Church for the international World Youth Day gathering.
Bless, too, the digital pilgrims and those who celebrate stateside,
united in faith and joy, witnesses of God's love in their communities.
Like the disciples who journeyed up the mountain to witness the Transfiguration,
may this experience be an encounter that strengthens us for our work in the world.
Through the intercession of Our Lady of Guadalupe, patroness of the Americas,
may we be worthy witnesses of our faith, humble representatives of our country,
and inspired missionaries bringing peace, hope, and mercy into our communities.
Amen.
St. John Paul II, father and patron of World Youth Day, pray for us.
St. James the Apostle, patron of pilgrim travelers, pray for us.
St. Kateri Tekakwitha, young faithful witness from our native land, pray for us.
St. Thérèse of Lisieux, patroness of missionaries and advocate for youth,
pray for us.
Blessed Pier Giorgio Frassati, man of the beatitudes and patron of young adults,
pray for us.
Come, let us go up to the mountain of the Lord...that we may walk in his paths.
Micah 4:2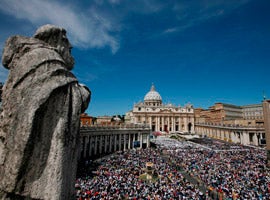 Other Inspirational & Useful Resources
A three-part Lectio Divina spiritual exercise series was created specifically for pilgrims preparing to participate in World Youth Day in 2019. 
For the pilgrim, the experience [of a World Youth Day pilgrimage] is not easy. It requires fortitude, patience, flexibility, and even sacrifice. But those who undertake it find themselves lifted up, proud for having met the challenges and grown in friendship with Jesus. 
-- Bishop Robert Brennan

10 great ways to prepare for World Youth Day

Recommended: World Youth Day: Inspiring Generations

Lectio Divina On the Meaning of the Call

Prayer and discernment resources from the USCCB
Informational Webinar Recordings from WYD 2019
WYD Panama and Stateside 2019 Orientation 
Recorded Thursday, September 13, 2018
Providing some basic information about the international and stateside celebrations in January 2019. Come and learn about the locations, times, themes, and other key considerations for these events.

Watch the recording of this webinar.
---
WYD Safety and Security Preparedness
Recorded Thursday, November 15, 2018
Especially for those going to Panama, this webinar will feature important information about health and safety, security measures, travel restrictions, and other important information for U.S. pilgrims abroad.

Watch the recording of this webinar.
---
Celebrating World Youth Day in the United States
Recorded Thursday, December 13, 2018
Especially for those not going to Panama, find out what is happening stateside and how you can create a local/digital pilgrimage experience for youth and young adults in your parish, campus, or diocese.

Watch the recording of this webinar. 
---
Experience the richness of your faith