Preparing for the International Events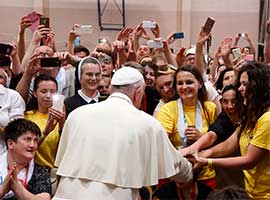 Going to Panama for World Youth Day not only requires spiritual preparation (prayer, reflection, community, service, personal growth), but also preparing for the activities and events that will take place overseas. Understanding what to expect can be very helpful as you plan this pilgrimage journey.
Panamanian Culture
Not only will you be traveling outside the United States, you will be experiencing the culture and community of Panama. The geographical location of Panama makes it a connector of cultures and continents, linking the Americas together as well as two oceans (the Pacific and the Atlantic). Panama City itself has a strong connection to the United States due to the construction of the Panama Canal. 

During your preparation, learn about Panama and Panamanian culture. The more research you do in advance of this trip, the more meaningful it will be. Go to the library, the bookstore, or online; find books and websites on the faith and history of Panama. Get a travel guide to Panama City to learn about the city, its history, and some of its landmarks: the Panama Canal; Casco Viejo (Old Town); Church of San Jose;  Cathedral of Santa Maria la Antigua of Panama, and the new Biomuseo.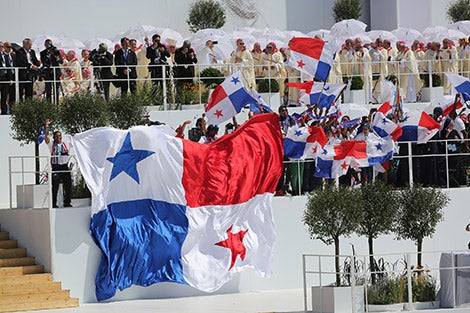 Finally, learn some Spanish words. While a number of Panamanians know English (and at World Youth Day, there will be volunteers who speak many languages), it is respectful to know the basic phrases in the Spanish language (hello, goodbye, thank you, excuse me, yes, no, please, toilet, "do you speak English?" and so forth).  
Pilgrim Packet
s
Details about the pilgrim packets will be available soon. You will receive these upon arrival at your housing or catechetical site in Panama.

Opening Mass
The first official World Youth Day event is the Opening Mass on Tuesday evening (January 22) with Monsignor José Domingo Ulloa Mendieta, Archbishop of Panama. Note that the Holy Father will not be present for this event. Expect most of the Mass to be in Spanish (although a simultaneous English translation should be available via a local radio station; be sure to bring a radio so you can follow along and stay engaged). The Mass will be held in the open on the Cinta Costera. There won't be any chairs, so you will need to grab a spot of grass. Use tarps, blankets, or beach mats to mark your spot. Consider bringing a foam kneeling pad for a seat cushion that easily fits in your backpack.   

As the first event of WYD week, this event may be subject to some transportation issues as this is the first day when a massive influx of pilgrims enters the city. Therefore, be prepared for delays and long lines – and allow plenty of time for travel. As the week progresses, the city and the pilgrims make the necessary adjustments, and some of the transit issues calm down the following days. 
When the Holy Father arrived and the Mass started, there was a sense of Church, of being a part of something really great, of being one family of God's people from different nations and languages, all with the same faith and the same hope. As one participant said, "Young people are hungry to know the truth and they find it at World Youth Day. When I went, there were kids who were going back to church. They realized that they are not alone in their journey to the Lord. The event shows that the Church is alive and well, but there is still a lot of work to be done."

Bishop Edgar de Cunha

Catechesis

On Wednesday, Thursday, and Friday (January 23, 24 and 25), catechetical sessions are held in your language throughout the city. You will be assigned to a location near your accommodation site.  Each WYD catechetical session will be based on the WYD theme for that day and will begin with warm-up activities for the pilgrims (called "animation"). A bishop who speaks your language will offer a presentation on the WYD themes, and conclude with a Eucharistic liturgy. These sessions are a great opportunity to meet other pilgrims from around the world who speak your language, to hear from a bishop who is passionate about the Gospel, and to experience the Sacrament of Reconciliation, which is often offered on-site there. These are the core formation experiences of World Youth Day – and are not to be missed.
Panama City Youth Festival & Activities

Throughout the week, especially during the afternoons and evenings, dozens of expositions, concerts, dramas, and other faith-based events will be available at many different venues throughout Panama City and in multiple languages. Collectively, these events are referred to as the Youth Festival and they are free to all registered WYD pilgrims. More information on the specific activities during the Youth Festival will be available in your guidebook upon your arrival.
Papal Welcome Ceremony

On Thursday afternoon (Jan 24), World Youth Day pilgrims will welcome Pope Francis to Panama City at the Papal Welcome Ceremony. Since this will be held on the Cinta Costera, the same venue in which the Opening Mass on Tuesday (Jan 22) was held, you will have an idea of what to expect and how to arrive there. It is anticipated that the pope will speak in languages other than English, so be sure to bring your radio and headphones so that you can listen to the simultaneous translation.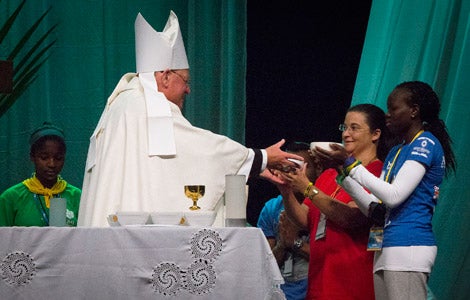 Via Crucis / Way of the Cross

All World Youth Day participants will take part in praying the Via Crucis (The Way of the Cross) on Friday evening (January 25). Since this event is being held on the Cinta Costera, you will (at this gathering) have a good sense of transportation and location of necessary services in the area. Past experience tells us that the crowds for this event are not as heavy as the previous night; however, there is no guarantee and it is advised to exercise caution (as at the Papal Welcoming Ceremony) regarding space, belongings, and other pilgrims. This event may be carried out in a language other than English, so once again, it is important to bring a radio and headphones.
Saturday Vigil Walk

On Saturday (January 26), the World Youth Day pilgrims will make their way to the vigil site (location TBA) by public transportation, on foot, or a combination of both. Be sure to have a clear plan for getting to the vigil site.  Remember that you only need to take with you what you need for Saturday and Sunday (January 26 and 27). Either en route to or as you enter the vigil site, you will receive a packet of food for the next 24 hours. Make sure you do not eat all of your food on Saturday (it happens more than you'd expect).
Saturday Night Prayer Vigil

Although you may be tired and tempted to go to bed early on Saturday night (January 26), do not miss the solemn and beautiful Candlelight Prayer Vigil on Saturday night with Pope Francis. This is one of the most special aspects of the entire World Youth Day experience.When the prayer service is finished, most pilgrims remain in the field and sleep under the stars.

Sunday Closing Mass with the Pope

On Sunday morning (January 27), Pope Francis will preside at the World Youth Day Closing Mass at the Vigil Site.  All of the Catholic faithful in the host country are welcome to attend the Closing Mass. So do not be surprised if that little bit of open space near your group is filled by the time Mass begins. In fact, rather than looking at the new people as interlopers, treat them as guests and invite them into your area with hospitality and graciousness.


Trading at World Youth Day

One way of celebrating cultural exchange is by trading items with others. This is especially fun if you bring or make items to trade such as prayer cards, crosses, buttons, stickers, decorated clothespins, bandanas, hats, shirts, and so forth. These items can represent your local parish, diocese, or movement, your local community, your state, or even your country. Some people give away their items, but most try to bargain an exchange for items that other pilgrims want to trade. 
There's no official time or location to engage in these interactions, as it is done informally throughout the week, en route to events, on the pilgrimage walk, or while waiting for programs to begin. Remember that trading is optional, so don't worry if you do not have anything to trade. 
If you would like to you trade things that represent the Catholic experience in the United States, the WYDUSA office provides items for purchase in advance of World Youth Day. You can find these prayer cards, clothing, water bottles, and more HERE.

Experience the richness of your faith