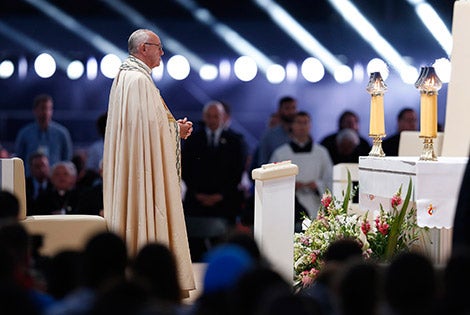 No matter how you participate as a WYD pilgrim, we invite you to check out our various resources.
Also, check out our page on Blessed Pier Giorgio Frassati. 
World Youth Day Webinars
World Youth Day is meant for the whole world. In that spirit, all Catholic pastoral leaders working with youth, collegians, and young adults are invited to participate in a series of upcoming webinars on the forthcoming international celebration – regardless of your plans to travel internationally or not. Mark your calendar for upcoming dates (TBD) and topics and check out the recordings of our past webinars.
Webinars are hosted in collaboration with Catholic Apostolate Center and Ministry Training Source.
---
Leader Guidebooks
Leader guides are resources to assist bishops, group leaders, and pilgrims in their preparation for World Youth Day and include ideas for post-World Youth Day retreats and wrap up.
World Youth Day USA International Leader Guide: A guidebook for any pastoral leader coordinating a group of youth or young adults traveling to the international World Youth Day events (2022 Guide available TBD).
2019 Guide: PDF |  E-book (developed by Catholic Apostolate Center)
World Youth Day USA Stateside Leader Guide: A guidebook for any pastoral leader coordinating a stateside celebration for youth or young adults in their local parish, diocese, campus, or apostolic movement (2022 Guide available TBD).
2019 Guide: PDF |  E-book (developed by Catholic Apostolate Center)
To purchase a hard copy of either guide, please contact the WYDUSA office at 202-541-3044 or @email. The cost covers the printing and shipping of the guide.
---
Pilgrim Year of Preparation Resources
Find the following resources to help your spiritual journey toward World Youth Day:
ECUMENICAL GUIDE: Information and resources on how you can share your experience of WYD with other faiths

PRAYER: The official World Youth Day Prayer for the United States
LOCAL SITES: Information on sites of Catholic heritage in the USA
WYDUSA OFFICIAL PATRON SAINTS: Information on the WYDUSA official patron saints
RESOURCES: Spiritual Preparation for WYD
STATESIDE GUIDE: Who says you have to go to Panama to be a part of the WYD celebration? Use our Stateside Guide to help plan a WYD gathering in your area!     English PDF. Stateside guides in Spanish are coming soon!


---
WYDUSA Logo™
The WYDUSA office at the USCCB has developed a logo to unite all USA pilgrims as they travel to Krakow or celebrate Stateside. We encourage groups to use our logo on their pilgrim gear as they prepare to celebrate WYD. 
TERMS AND CONDITIONS OF WYDUSA LOGO USE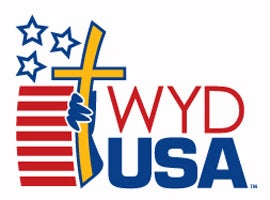 The World Youth Day USA (WYDUSA) logo is the property of the United States Conference of Catholic Bishops, developed for the purpose of bringing solidarity and unity to World Youth Day pilgrims from across the United States of America, including those who travel to the international gatherings and those who celebrate digitally and stateside, as well as WYDUSA "alumni," that is, those from the United States who have experienced an international or stateside World Youth Day gathering in the past.
1. Local parishes and dioceses can use the logo as-is, with the TM (trademark) designation.
2. Local parishes and dioceses can only use the logo for informational and promotional purposes, not product development.
3. No alterations may be done with the logo: the WYD/USA must be at the same level/proportion as the cross-and-flag design; the color and lettering must remain the same as it is in the original logo.
4. Other designs for local reasons may be used, but the WYDUSA logo™ must remain on its own in the same format received.
The WYDUSA logo packs a lot of meaning for US pilgrims. Check out meaning of the official WYDUSA Logo™! 
We encourage all US Pilgrim groups to wear our logo during their pilgrimage to a WYD celebration. You can buy pilgrim's swag that is officially license with the WYDUSA office from the WYDUSA Store. You can also download the WYDUSA Logo™ or email wyd@usccb.org to request an image of the WYDUSA Logo™.


---